Cléair Monroe Throughout the Years | Cléair Monroe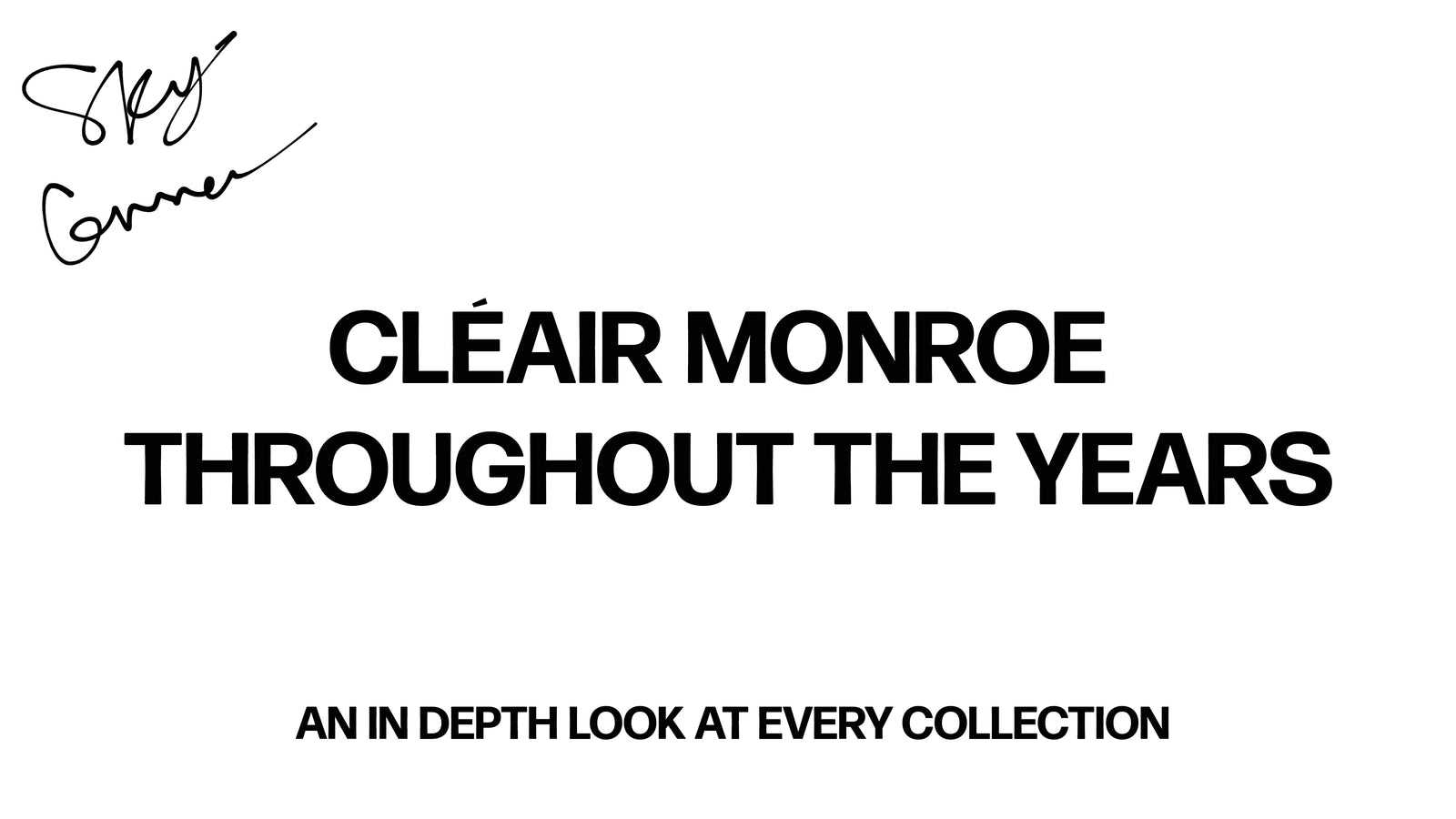 With the arrival of our new F/W collection, Muse-C/M. I'd like to take a look at Cléair Monroe throughout the years and give you insight on my creative thought process for my first seven collections. 
Fusion Collection: Spring '17
Nothing compares to your first. I really was interested in the idea of less is more. I spent so many hours on that Rope Tee, but I am so happy to say that was my first shirt for the collection, what an honor. This is collection was also special because this collection I introduced the side zipper placement for all bottoms, which is now a signature staple for the brand.
Hues Collection: Spring '17
My mind state for this collection was groups of girls who like to dress the same but take on different personalities and colors. I had a strong desire to make a monochromatic two-piece set in different colors.
Black Parisian: Fall/Winter '17
This one was special. I was in a space of feeling like New York was suffocating me. I was also heavily reading different works of Josephine Baker and how she came from St. Louis then later moved to New York before departing for Paris. I was also inspired by one of my favorite writers and debaters James Baldwin who also left New York to relocate to Paris. The collection was a lucid dream of what I would like to wear, look, and feel my first time in Paris.
Self Discovery: Spring '18
I got inspired by watching, "Cast Away" starring Tom Hanks. It sparked the question in me. What if I was involved in a plane crash and I had to start over. All I had were the contents in my suitcase. How would I wear and re-wear my clothes? I ended up with tri tanks, dresses, inside-outside jeans, bralettes, and shorts.
Black Tempo: Fall/Winter '18
Black Tempo was inspired by Janet Jacksons' Rhythm Nation video and the Matrix. I challenged myself to take black to the new level by adding flavor to it. How can I make this shade pop without adding another color? I used textured fabrics, zippers, and embroidery to achieve my look and I will say, it's one of my favorite collections yet.
Colhers Collection: Spring '19
Colhers was about uniting. I noticed a lot of people loved the white milk dress from the self-discovery collection so I thought I would revisit this design, but add to it. I was researching colors and their significance. What they mean and how do we take them on once we wear them.
CM7: Fall/Winter '19 | Featured Collection
How do you take classic garments and add your own flavor to it? How do I redefine winter but not use all dark colors? I pushed myself to not settle but keep going until I was satisfied. This thought is to be continued as I am still basking at the moment.
Muse-C/M: Fall/Winter 20 | Featured Collection
The "Muse-C/M" collection is about realizing you are the masterpiece you've been looking for. You're recognizing, transitioning, and evolving into the real you. The pieces in this collection reflect how complex but effortless you are. Quality first but design surely does not come second. May you see who you really are, a Muse in C/M.

P.S: Spelled Muse-C/M pronounced "Museum"

---